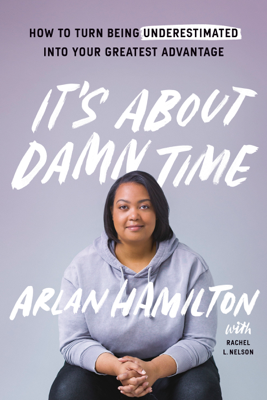 Part of the official It's About Damn Time book tour!
A virtual, multi-city event series bringing knowledge, investment, and access to underrepresented founders and the ecosystems that help them grow.

12 City Events
Join us online as we feature 12 cities across the US. There's something unique going on in each of these ecosystems — come and see.
May 5 / NYC, NY
May 6 / Los Angeles, CA
May 8 / Bay Area, CA
May 12 / Dallas, TX
May 14 / Atlanta, GA
May 19 / Washington, D.C.
TBA / Miami, FL
May 27 / Portland, OR
June 9 / Minneapolis-St. Paul, MN
June 11 / St. Louis, MO
June 18 / Chicago, IL
June 20 / Detroit, MI
All city events will begin at 5:30pm local time.
Each 2.5-hour city event includes:
Live local founder pitches + an investment (apply now!)
A behind-the-scenes experience with local founders, investors, and ecosystem builders
Engaging ways to connect with other attendees
A fireside chat and Q&A with Arlan Hamilton
An autographed, hardcover copy of It's About Damn Time!
🎟 Single City Event: $30
Attend 1 event of your choosing.
🎟 All-Access Pass: $60
Attend any city events you want!

2 Workshops
We're excited to present 2.5-hour premium, interactive online workshops for both entrepreneurs and investors.
🎟 Entrepreneur Workshop - May 15
Presented by Arlan Hamilton, the Backstage Crew, and guests.
Start time: 3pm ET/2pm CT/12pm PT
Cost: $30
Topics will include:
Is VC for me?
Investor readiness
Communicating with investors
Alternatives to venture capital
Tactical case study (market validation, growth, scaling)
Q&A with Arlan
🎟 Investor Workshop - June 19
Presented by Arlan Hamilton and guests.
Start time: 3pm ET/2pm CT/12pm PT
Cost: $100
Topics will include:
Get started investing
Ways to invest (syndicates, angel investing, venture funding)
Fundraising strategy (differentiation, selection and communications tips)
Diversifying deal flow
Evaluating underrepresented founders
Interactive live deal evaluation
Q&A with Arlan
Workshop tickets do not include a book, so be sure to grab a city ticket to get your copy!

💰Apply For Investment
We'll be investing $25k in 1 company local to each city who will join the Backstage Capital portfolio as a Headliner. We're also planning to host a virtual Investor Day to connect Headliners with interested investors.

National Sponsors

More to be announced.
City Leaders
We're proud to be working with incredible ecosystem builders local to many Tour 2020 cities.

Dallas, TX - Jasmin Brand, President @ The Start and Dallas Digital Lead, Urban One
Washington, D.C. - Adam Mutschler, Partner @ The Kedar Group
Portland, OR - Stephen Green, Director of Operations @ Pensole Academy + Founder of PitchBlack
Minneapolis-St. Paul, MN - Danielle Steer, Managing Director @ Lunar Startups
St. Louis, MO - LaShana Lewis, CEO + Founder @ L. M. Lewis Consulting
Detroit, MI - Monica Wheat, Executive Director + Co-Founder @ Venture Catalysts
This event series is co-produced with Ecosystem Partner

.